For Concert Booking, Media Interviews, Radio Service, call Ashwin directly at: (831) 423-1699 or email: info@batish.com

Members: Ashwin Batish, Keshav Batish, Meena Batish, Myron Dove, Eliot Nemzer, Murray Low, Andrew Foehner, David Harnish +special guests always!

Label: Batish Records, Santa Cruz, California, USA, (ASCAP)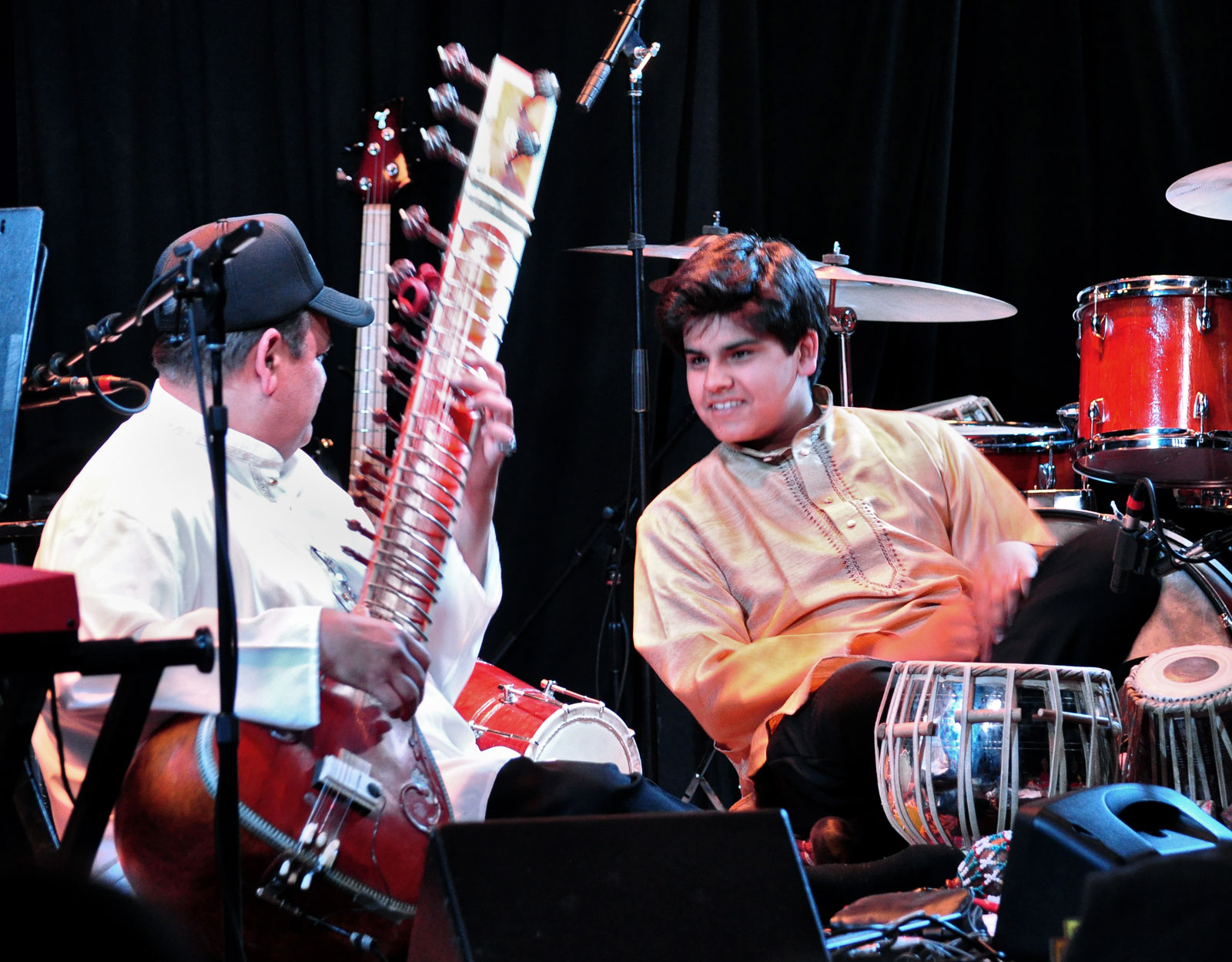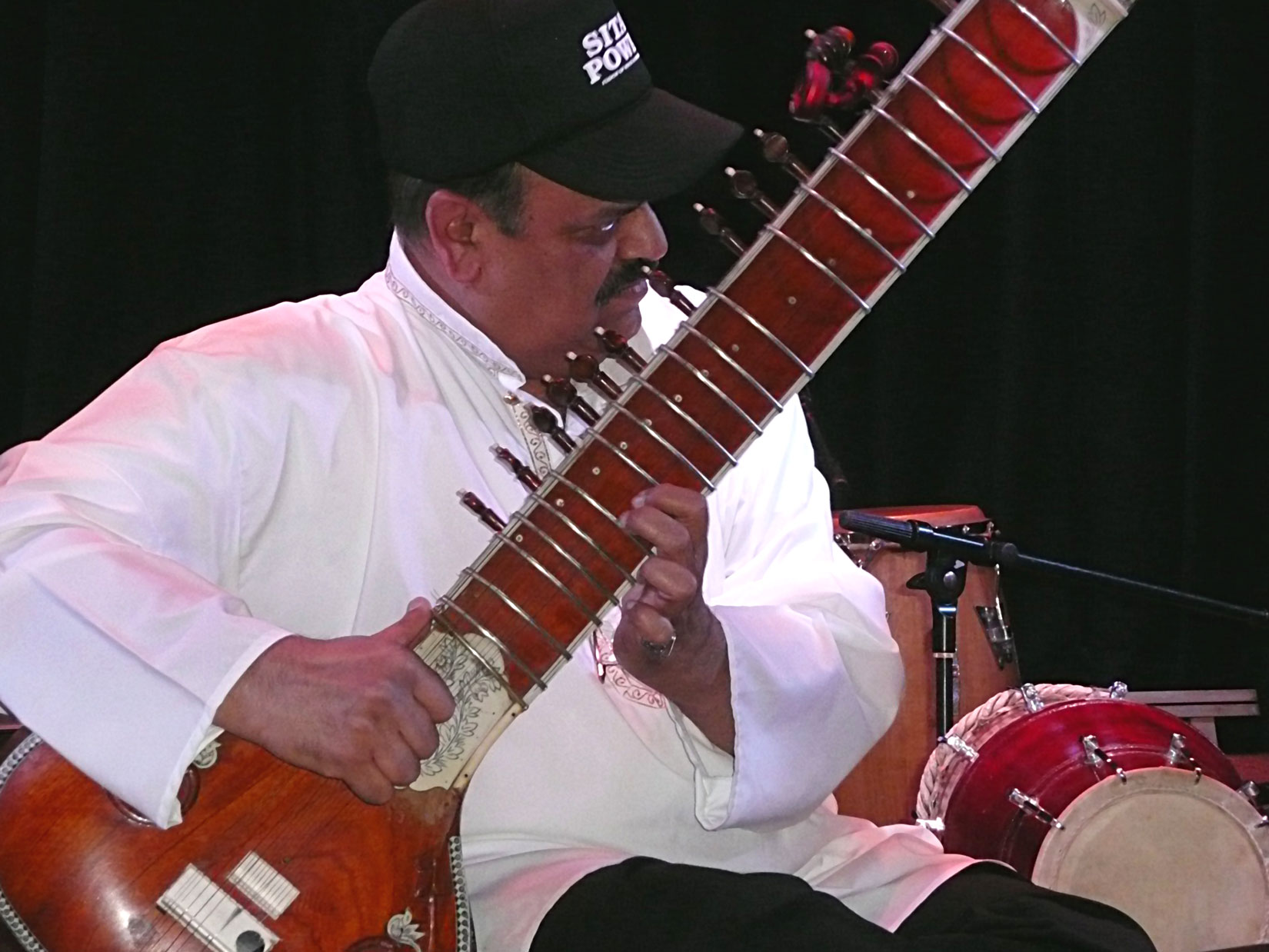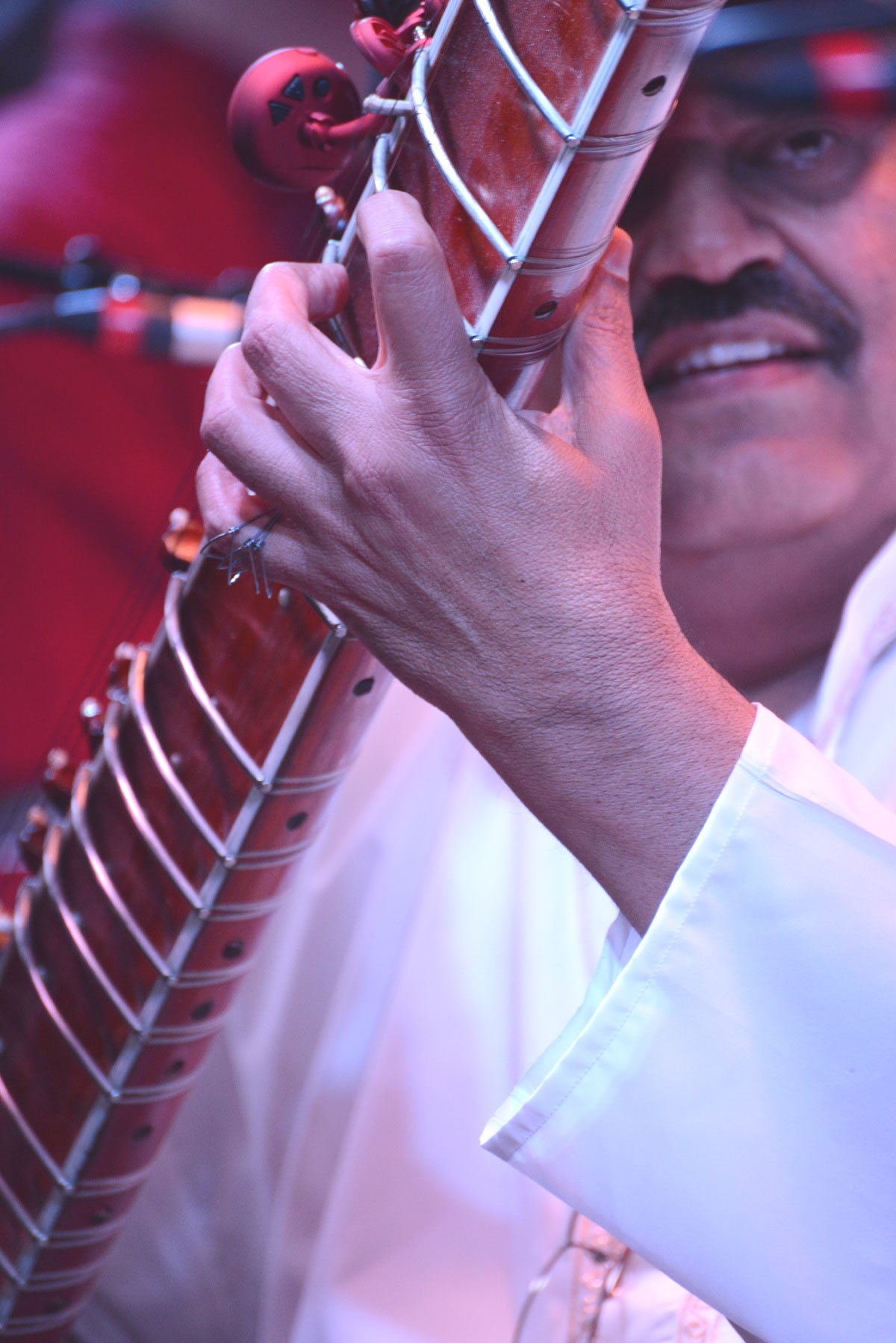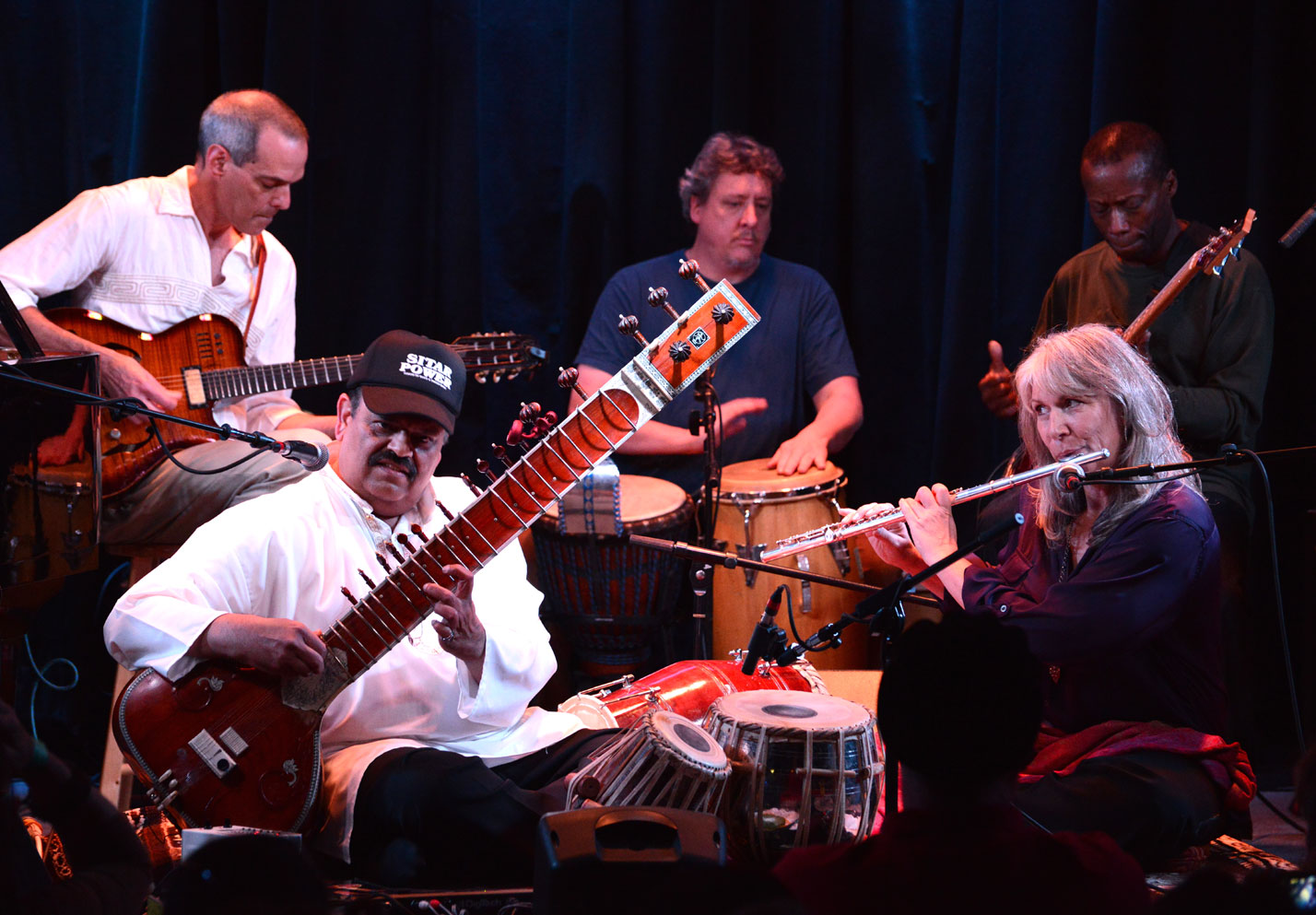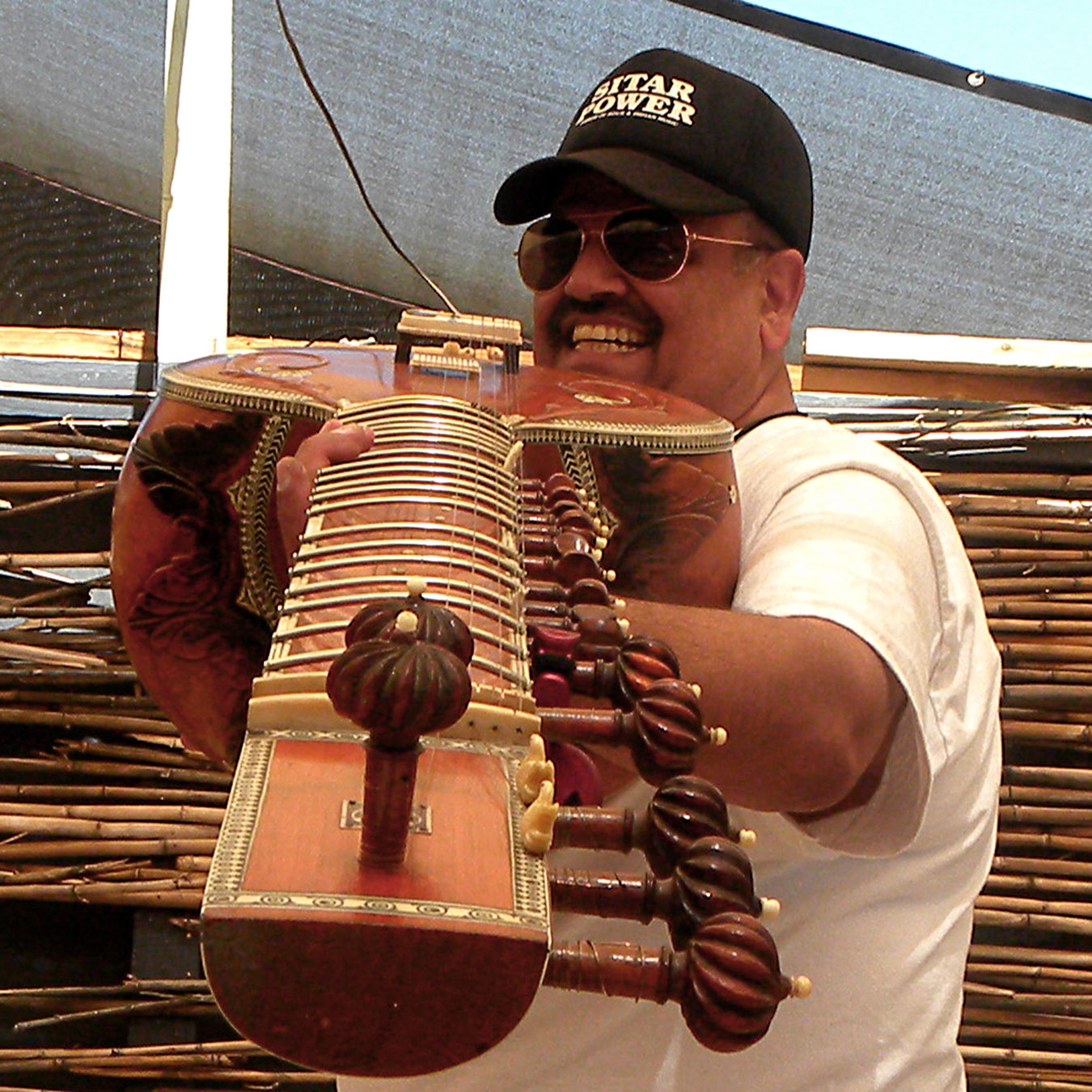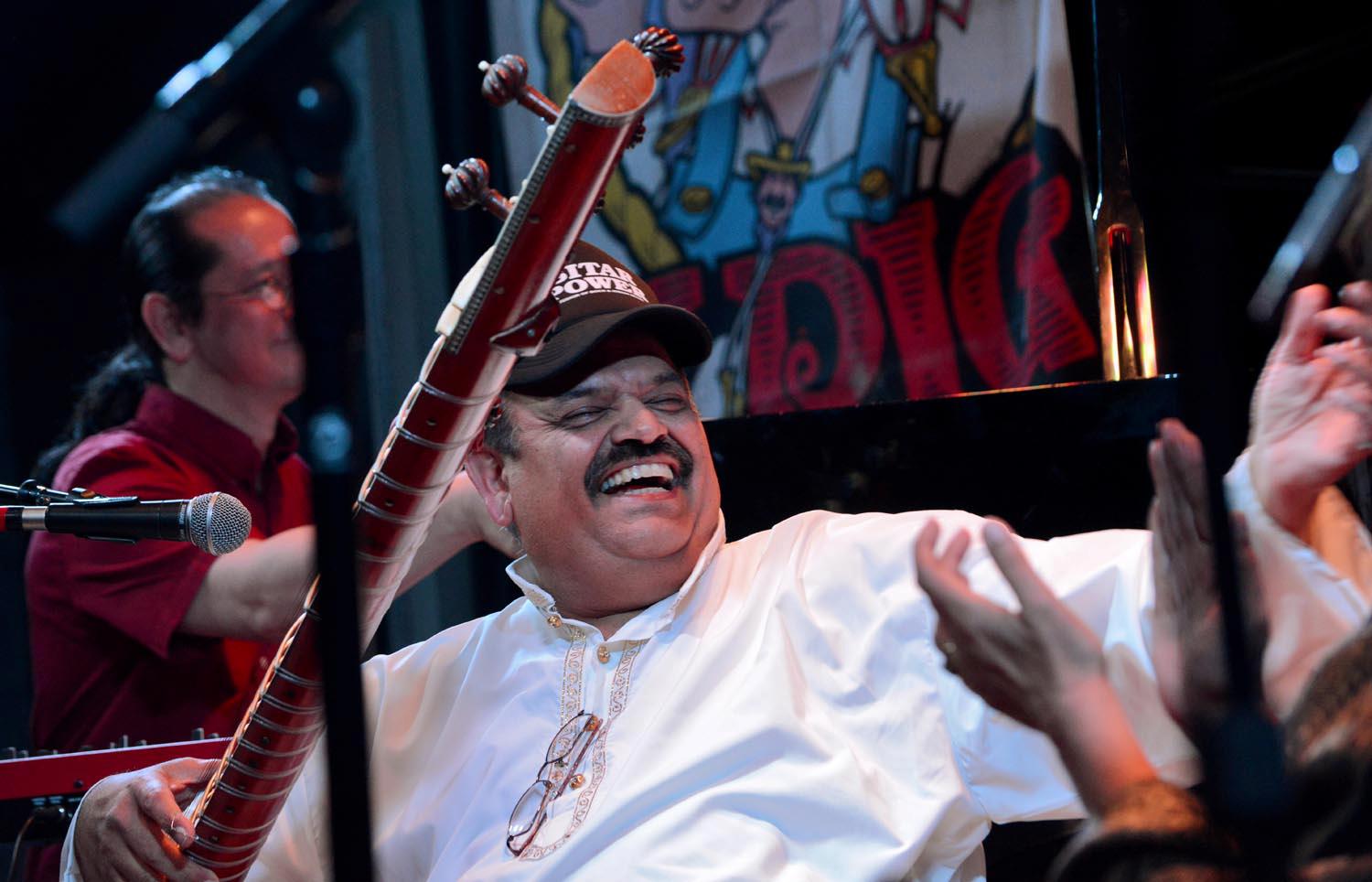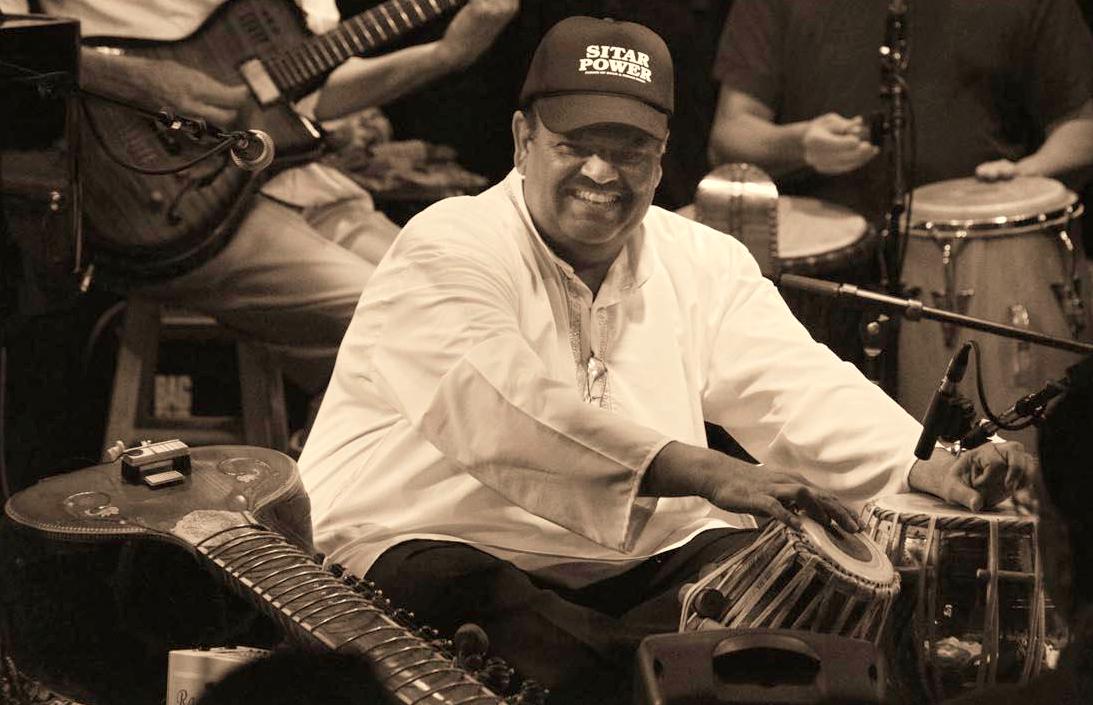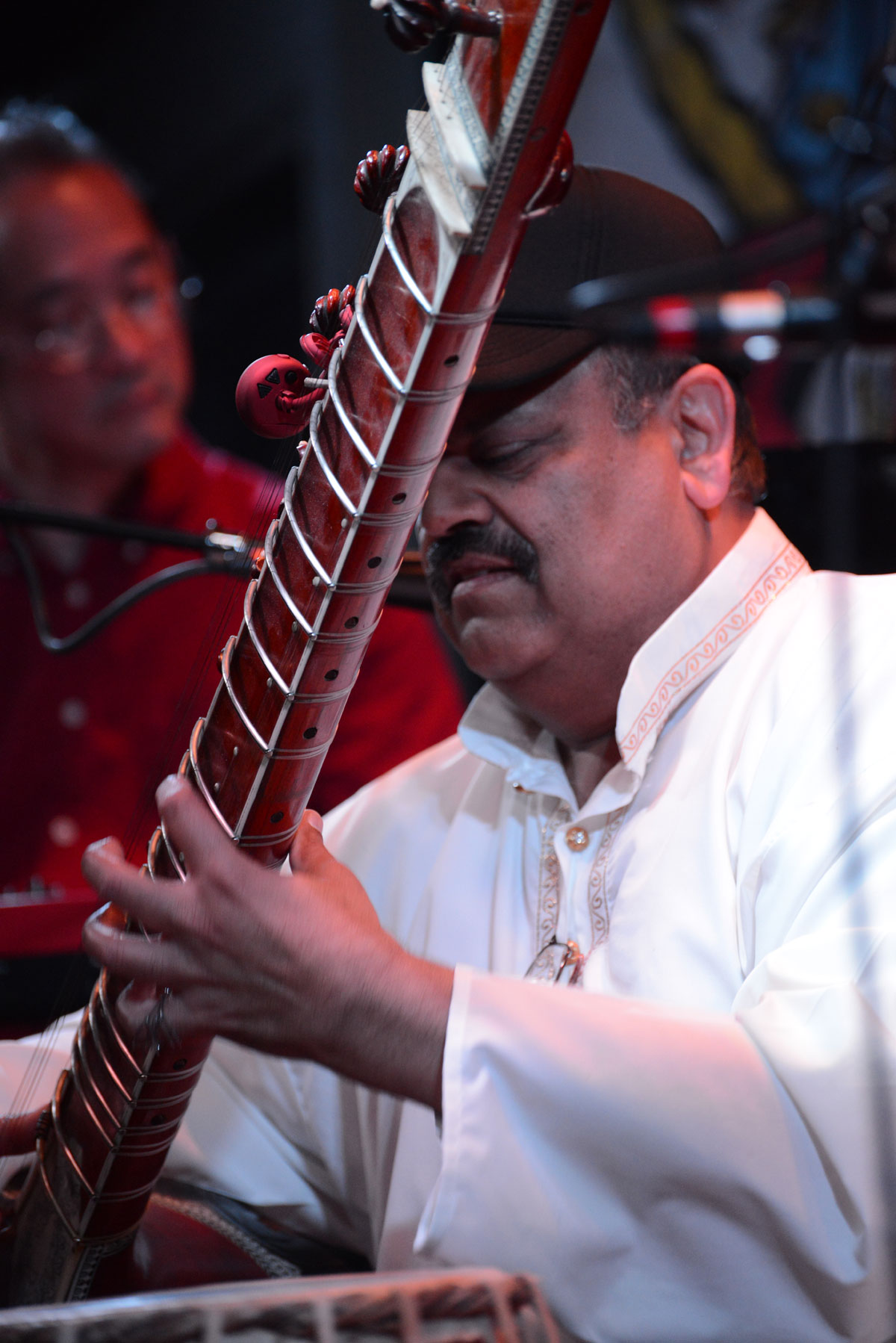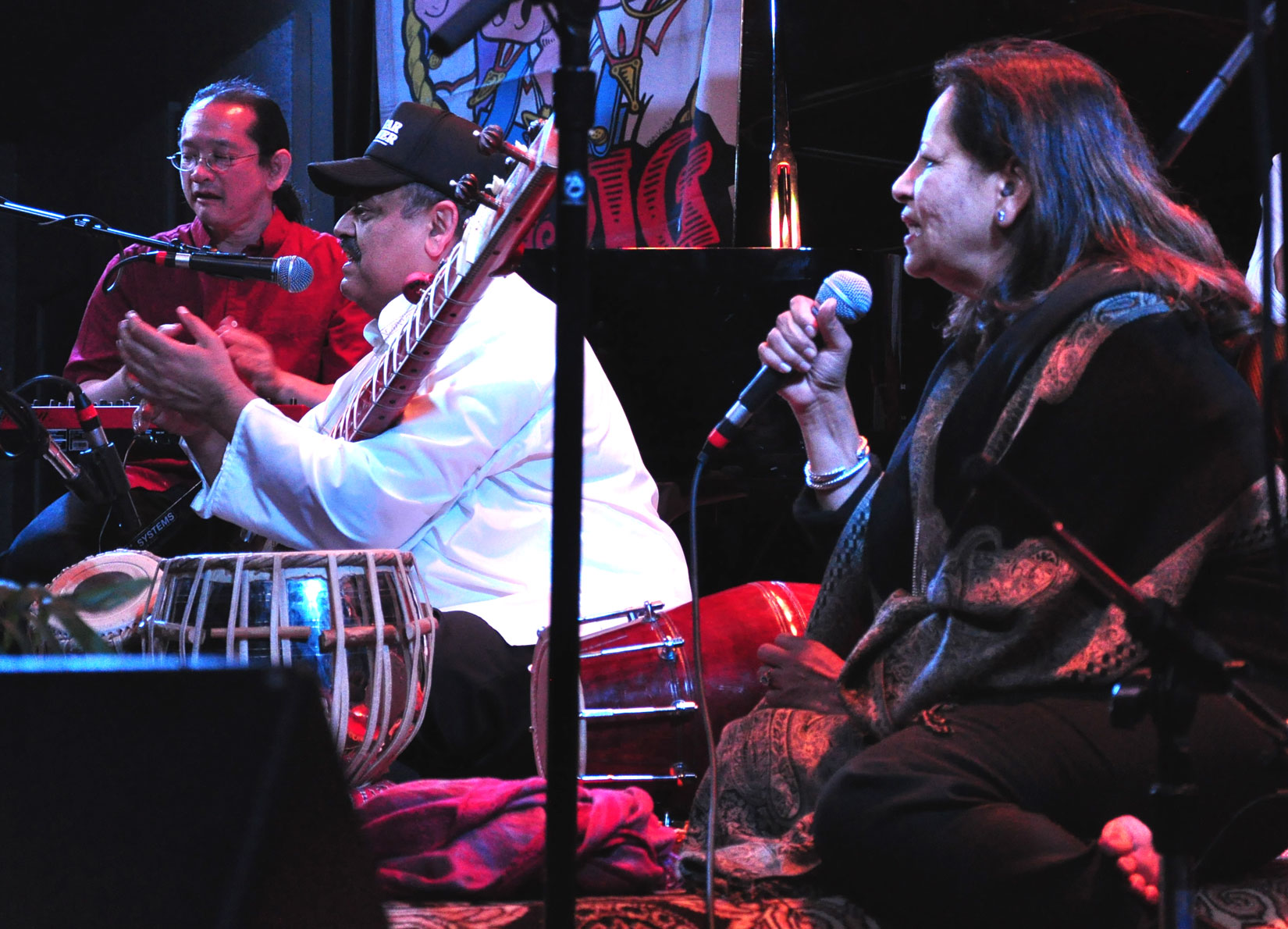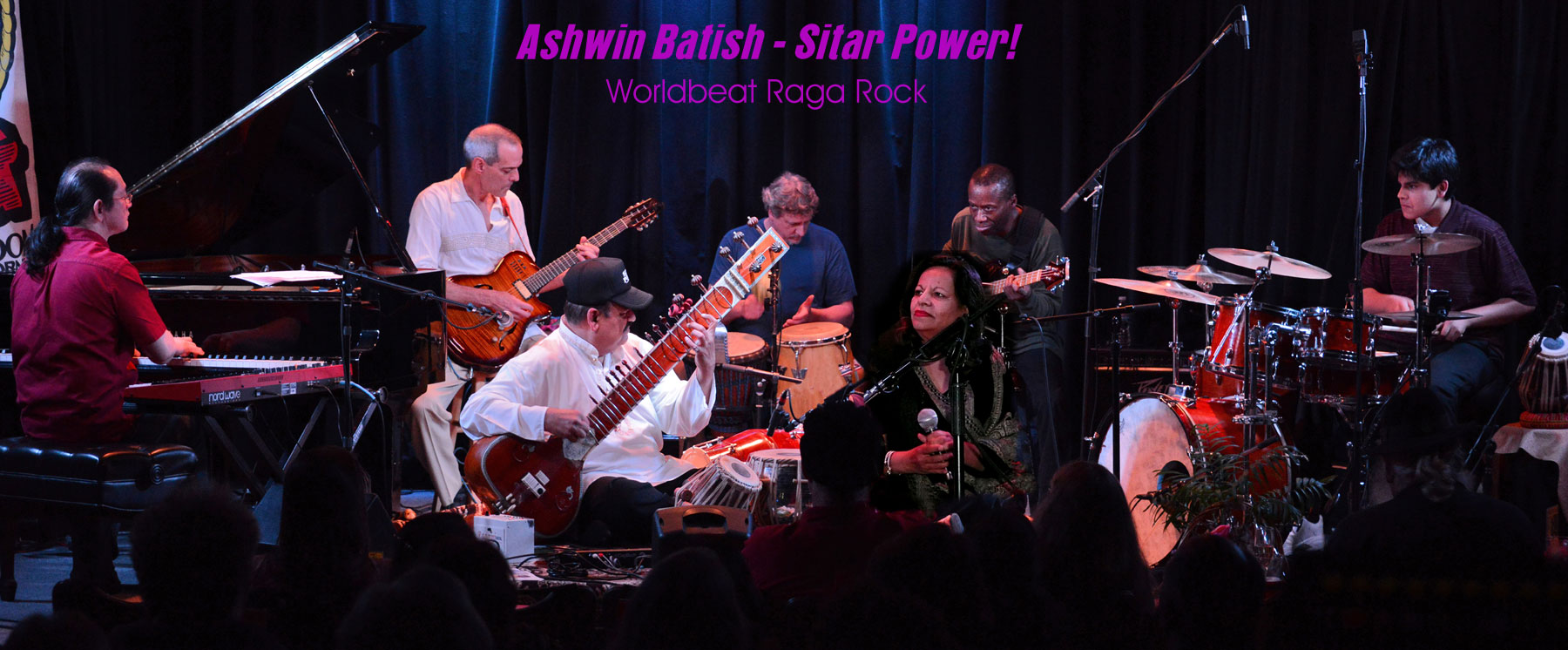 Sitarzan Ashwin Batish
Worldbeat Raga Rock!
Musical globalization visualized through the mind of a master sitar player
Don't ever tell Sitar man Ashwin Batish that Worldbeat music is just a fad; he will take you for a musical spin that will surely change your mind. Almost thirty years ago, he was one of the early pioneers that triggered the growth of the Worldbeat genre with his really amazing concoction of songs released under the CD titled Sitar Power. With songs such as the Bombay Boogie, Raga Rock, Casbah Shuffle and India Beat, his music broke all barriers and went to top ten on NPR and college radio across USA and Canada prompting numerous concerts at prestigious venues such as the Vancouver Folk Festival, Montreal Jazz Festival and the Winnipeg Folk Festival in Canada.
In the early 80's, Ashwin was a part of an elite group of musicians across the world that exploded on the scene and started to get attention on radio and in the media for breakthrough sounds of Worldbeat music that was based on the rich traditions of India, Africa, Middle East, and other exotic cultures. To such global sounds were added a healthy dose of Western beat music taken directly from pop, jazz, dance etc. The airwave dance floors were suddenly alive with the music created by these early birds with DJs (many of them baby boomers) reflecting the same sentiment, and started programming these new sounds generously to their audiences. Perhaps they were truly happy to see such blends as welcome relief to what they were spinning. Or perhaps they were sensing and thus taking the upper hand in breaking this new sound that they found showed promise.
Most such musical projects were self financed by individual artists, including Ashwin. As this music started getting attention, it was not long before music scouts were let loose by some of the major record labels to research "World beat" and the artists attached with this breakthrough sound. Ashwin recalled getting calls from A&M, Rounder, and Tower Records etc. requesting sample copies. "They just wanted to hear the music. I was excited because I thought they wanted to sign me on!" After a while, Ashwin realized that they were more interested in researching the sound so they could tailor their releases to match. "The record labels were concerned that my music was getting all this attention. I got the feeling they did not like being dethroned from the top 10 spots as it cut into their comfort zone."
While the majors were pondering such issues, a well respected Irish and Celtic heavy label, Shanachie Records, called Ashwin and asked him to sign on to their roster for their newly formed department of World music called "Worldbeat-Ethnopop." "It was explained to me that four breakthrough artists were being grouped together to form the spearhead in launching Shanachie's venture into Worldbeat - a genre that was later to become a staple for Shanachie. These artists were Ashwin Batish - Sitar Power (Raga Rock), Obey Nagomi - My Wife Bought A Taxi, Ofra Haza - 50 Gates of Wisdom (Yemenite songs), and Dissidenten - Sahara Electric. The Shanachie push helped direct the Western world into the Worldbeat era. As more artists were signed on to the Shanachie roster, Worldbeat started thriving and gaining momentum.
The Shanachie - Batish relationship dissolved after a successful run and Ashwin got married and got busy raising a family. He and his father, Pandit Shiv Dayal Batish, formed the Batish Institute of Indian music and Fine Arts in Santa Cruz, California to teach music of India with regular classes at their facility in Santa Cruz. With time on his hands, he spent it creatively in strengthening the Batish record label and releasing almost 100 titles of educational CD and DVD titles to teach the music of India through the institute and through mail order outlets such as Amazon and iTunes. It was this precious time with his father that Ashwin created some of his most effective training videos to teach Indian music. Although, secretly, his father was always encouraging Ashwin to pickup on where he had left off on the Worldbeat wagon. "My father was my biggest fan." recalls Ashwin. "He loved my music and all the titles I gave the songs. He often told me that "Your music belongs in a Bollywood movie!" After almost 10 years break, in 1994 Ashwin Batish released Sitar Power 2 picking up where he had left off and continuing his hard hitting rhythm oriented Raga beat music. In this release, he brought together more blends of sitar with R&B, Country, Samba, Blues, and Funk etc. He never lost sight of the "fun" side on things with song titles such as Sitar Mania, Cowboys and Indians, Surfing With the Sitar Man, Hi5. Again, his songs took off and surprisingly enough, Ashwin recalls that "Sitar Power 2 prompted almost an equal amount of sales for the first Sitar Power 1 album. It was like a resurgence. This took me by surprise as I was under the impression that we had tapped that market well."
So why was the title of "Worldbeat" so much more exciting then simply "World" or even "New Age" for Ashwin?
"My music, my titles and my demeanor about what I present has always been under the gun among the marketing folks in the music industry. They have often tried to mold me into something that caters to their sense of taste so they can sell more music. "There was an instance where I was invited to dress up as a Maharaja and play my sitar at a very expensive Hollywood bash with the express stipulation that I don't open my mouth and speak any English! I refused to do this."
I have been advised often to change my titles to more serious sounding ones so my music gets taken more seriously. Sitar Power was too brash and feisty and frankly too bold. Many industry gurus had a problem with it. I remember, New Age was big when I started creating Sitar Power. I could never listen to it for too long without going "Ouch." I was never very happy of the loopy, repetitive, more elevator type, India influenced blends that were being generated by a new era of musicians that were using the new found midi revolution to give the spacey textures that, to me, had a plastic quality to them. It was also hard for me to get into a meditative mood as much of the New Age music was being created in the Western equal temperament. Thus, I had a really hard time with thirds and 6ths. They are just too sharp for my musical sensibilities. I felt that the world needed to listen to some good music that can really tear it up. "New Age music was born out of the traditional meditation classical music of North India and by artists that wanted to provide such meditative musical elements by using synthesizers as opposed to "Indian" sounding instruments. It allowed these musicians to bring meditation music to the Western masses with the sound and textures that the Western ear is used to. It was not designed to "shake the waters too much" as the emphasis was more on relaxing and meditation. It was not about performance skills but more about putting the listener in a state of mind that was relaxing and pretty much still. This is not to say that the music did not get its intended results. It did, but, for artists such as Ashwin, it was not about relaxing or going into deep meditative states. To him, the slow, repetitive nature of New Age was very monotonous. Ashwin did released 2 CDs under his label to cater to the meditation market under the Om Shanti Meditation banner but then turned his attention to the more challenging and invigorating fusion blends he calls Sitar Power.
"Worldbeat music is not traditional music by any means. It is not supposed to be. It stands apart from New Age, from Fusion and from traditional North Indian, in that it bring two separate elements to the table - my tradition and the Western rhythmic genres of rock, dance, Afro Cuban, Latin American, Country music etc. Nothing is sacred or escapes this form. The premise is 'to have fun!' I have always placed the 'fun' part on the top of the pyramid when it comes to composing songs in Worldbeat," says Ashwin. "If there is no fun or excitement you might as well relegate yourself to hitting that musical couch and slipping on the same old slippers and taking a nap! That's the safe route but that's not for me."
True. Safe to Ashwin is not an option. He has constantly pushed the envelope. Sitar Power - the third generation was released April 14th 2012. This latest release goes even further with some wild blends of his raga based sitar rock-outs on pieces such as 'Sitar Trek' (fusion of Funk and Indian music), 'East Indian Meets West Indian' (a superb combination of Indian Calypso that was inspired by Harry Belafonte), 'Sitarzan' (a hard hitting dance number that came out of the chaos of trying to be creative while raising 4 children!) In the midst of this environment that Ashwin thinks of as a jungle, you can hear his voice doing a Tarzan like call - except his is in a melodious raga style, you can sense the urgency of his life experiences especially at the end where his 4 year old daughter reminds him to stop the recording as they have to go pickup his son from school. Ashwin also seeks out another Latin sounding number he titles 'Suave' which is a pure delight to listen to and can easily belong on any Latin floor. A lovely blend of Raga and Jazz composed in 6 and aptly titled 'Raga Jazz' shows off some super cool sitar solos that transports one on a sitar ship loaded with delightful Ashwin concoctions.
All in all, one cannot help but take a step back and try and digest what Ashwin Batish brings to the table. He is not predictable by any means. In fact, one can safely say the opposite. "I find that one cannot get complacent with only a few ways of doing something. If one was to eat the same food again and again, they will get sick of it. My music is like a fresh selection on a table. I take a bite from each and I get the necessary variety in my diet."
Following along on Ashwin's fun stance when it comes to his Worldbeat compositions "I give my songs fun names because the titles often speak of what inspired me to make the song in the first place." Our minds have a trigger mechanism when it comes to remembering our experiences. My song titles are a trigger that also helps me get into the mood of that song. This comes from the traditional approach of the ragas having the ability to evoke various moods."
It's a known fact that Ashwin is one of the early pioneers in the field "Raga-Rock" and "Worldbeat" music. He is also well known for his ability to shred some serious sitar. What is at issue is whether he see himself as an ambassador and thus feels it his duty to blend Indian music with the various World cultures. When asked this question he laughed and exclaimed joyously, "When one is thirsty and in the middle of a desert, one does not see the water as Indian, or Latin, or American or Arabic; you just want to take a long gulp and satisfy your urge! It is so when I hear the various, and might I add magnificent, streams of music I am fortunate enough to be exposed to. I hit the ground running as soon as I hear something I like. I pick up my sitar and am already seeing that music belong in my sensibilities. Invariable, I have an idea to a new song and if I am close to a recorder, it goes in there as a rough track. The use of strong rhythmic grooves taken out of pop, rock, and dance music, with the layering of powerful raga based sitar melodies over the top is what makes it - Sitar Power!"
Ashwin's first release was a 45 record that went straight to #1 in many of the NPR and college stations in U.S.A. and, as the news spread, it got picked up in other countries such as Germany, Denmark, U.K., Belgium, Australia to name a few. The European DJs picked up on Ashwin's rhythmic blends and his songs "Bombay Boogie" and India Beat" soon found home on the dance floors in many of the European clubs. Not to be out done, his music also found the same success in his native areas of U.S.A. and Canada. Such success triggered invites from music festivals prompting tours in U.S.A., Canada and Germany where Ashwin's live performances brought a pleasant change to the musical flavors presented by the festivals.
"Sitar Power 1" (1986) featured songs such as "Bombay Boogie, Raga Rock, Casbah Shuffle, India Beat, New Delhi Vice, Sitharmony and Sitar Magic." CD "Sitar Power 2" (1994) expands and adds more music that is highly groove oriented with super catchy melodies and his lighthearted song titles streak continued with song names such as "Sitar Mania, Hi5, Surfing with the Sitar Man, Cowboys and Indians, Cerebral, Tropicool, Misty and A Tabla For Two." Sitar Power – the third generation (2012) CD features more fusions with Funk, Jazz, Latin, Calypso, Dance, and even a special classical piece that features his son Keshav playing the tabla that was recorded when he was about 12 years old. I love the Ashwin's continued use of humorous song titles; Sitar Trek, Raga Jazz, East Indian Meets West Indian, Fun in Raga Dhani, Sitarzan, Smoky and the Pundit, Sitary Sitary Night, and Suave – a beautiful Indo-Latin number.
It is the infusion of some key personnel that has helped Ashwin's music take another leap into the world of Sitar fusion. The new CD and live performances bring to the mix his sister Meena Batish on vocals, his son Keshav Batish on tabla and drum set, long time friend and music educator Eliot Nemzer on guitar, one of Bay Area's hottest Latin Pianists Murray Low on keyboards, Andrew Foehner on Congas and Djembe, and his long time friend and one of the world's top Bass players, Myron Dove who has been the "go to" guy by such musical luminaries such as Santana, Robben Ford, Tony Furtado, Clarence Gatemouth Brown, Narada Michael Walden, to name a few!
This explosive combination will be performing concerts and recording as the Sitar Power Group. We hope their success will take them all over the World presenting Ashwin's unique and mind-blowing sounds and combinations.
~~ DC
Ashwin Batish / Sitar Power sound bites and Social Media Links:
Ashwin Batish EPK
Ashwin Batish Facebook Fan Page
Video Clips:
Ashwin Batish & Myron Dove at the Winnipeg Folk Festival
Ashwin Batish and Keshav Batish Live at the Independant Club, San Francisco, California
Traditional Classical Concert Clip
Bombay Boogie, Musique Plus, Montreal, Canada http://www.youtube.com/watch?v=THpiiDVGn0Q
Sitar Mania music video http://www.youtube.com/watch?v=XquypgGTGho
Ashwin Batish with Tabla wizard Zakir Hussain http://www.youtube.com/watch?v=_dLX8pgv9L4
---
email: info [at] batish.com copyright ©1995 - 2012 Batish Institute. All rights reserved. Intended For Personal Use Only. No part of the information here may be reproduced or utilized in any form or by any means, electronic or mechanical, including photocopying and recording, or by any information and storage retrieval system, without specific written permission from the Batish family. Special thanks to Chris Bratt, John Hight, Poonam Batish, Meena Batish, Surendra Batish and Rigo Torkos for their awesome photography and videography!
Ashwin Batish Products
for kids